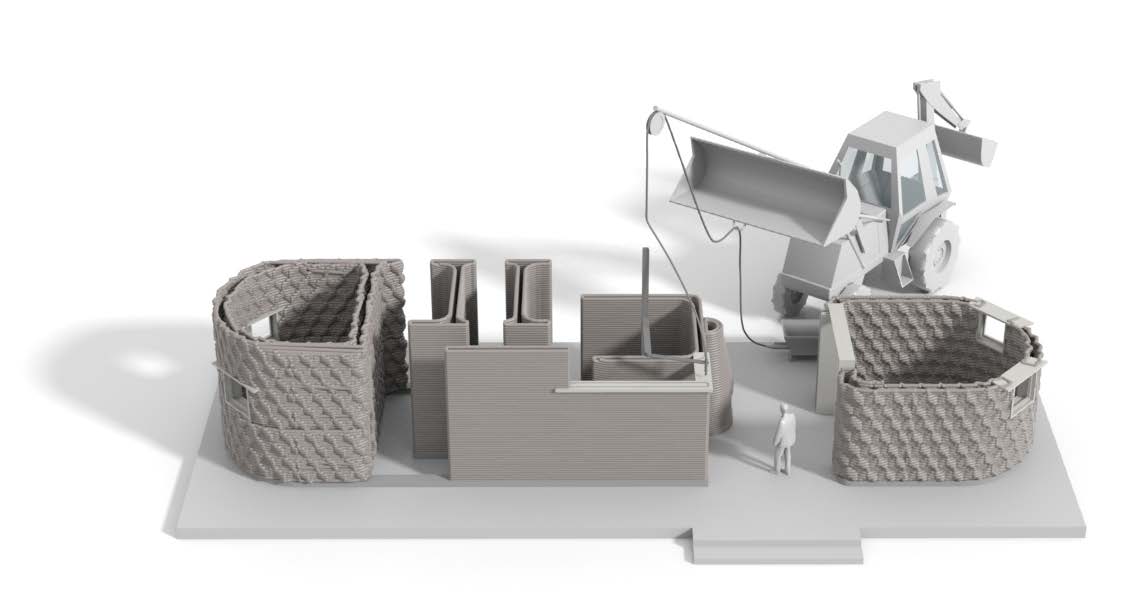 Alternative Ways: 3D Printing Buildings
As we head into the New Year, we intend to continue our thinking about new and alternative ways of construction. We have been exploring the use of some of our classic building materials, such as concrete, paying particular attention to the carbon footprint of not just the material itself once in place, but of the manufacturing process. Other important considerations include the expense associated with time, materials, and durability, as well as the drastic effects and extremes being brought on by climate change.
Inspired by Vasudha Maiya, Designer at Bull Stockwell Allen, we have also been exploring innovations that are alternative to traditional construction types, one of which is 3D Printing. Vasudha has worked on several 3D printing projects herself that can be viewed on her website. A short animation of hers can be found below:
The Façade House
For one of Vasudha's projects, the Façade house, she asked herself how she could print each of the blocks in a repetitive process.
Focused on achieving high thermal capacity, Vasudha's Façade house exhibits pots printed onto the walls. While incorporating a biophilic element and being perfect for growing one's own produce, the hollow shape of these pots made it so that heat could not escape the house, protecting inhabitants inside from cooler outdoor temperatures. The use of clay, adobe, or mud in 3D printed houses has been widely utilized in countries such as China, India, and Africa. Despite exposure to drastically fluctuating weather conditions, these houses have proven livable and completely functional.
The Nested House
Another 3D printing project constructed by Vasudha, the nested house, is nestled inside a bamboo forest and has three primary functions: sleeping, bathing, and gathering. This house exhibits the use of bamboo as scaffolding as well as a "functional and permanent structure" that "explored using parametric design of the unit." The use of bamboo as a scaffolding has been practiced by Asian communities for centuries—a beautiful, successful example of using sustainable and local materials for construction.
Companies that have started experimenting with 3D printing use various materials for construction. The skin of grapes, for example, was used for printing small scale projects. So far, adobe, mud, and concrete are most common materials used for bigger projects such as houses, domes, and the like.
With all these possibilities, and the capabilities of 3D printing, why don't we see more buildings made using 3D printing methods? There are a couple of reasons; 3D printing has only recently been used for larger structures, and construction companies would have to go through a lot to get approval for the use of 3D printing machines for large-scale construction. Moreover, the safety of these 3D printed structures are not widely known and are still in question.
The use of mud as the material, not concrete, has also proven questionable for some. Most people do not consider a house made of mud as progressive – quite the opposite. The ideal house remains a house made out of concrete.
Slowly, more and more companies have been given permits to use this process of building. While there is still much left to test and explore, it is exciting to witness such creative, sustainable alternatives to traditional building methods and materials develop.