The 2020 Road Trip: Part 2 – Southwest and Mountain West
Welcome back to part 2 of our Road Trip!
Since its inception, Bull Stockwell Allen has specialized in designing recreation areas and resorts and has worked in some of the most beautiful parts of the world – stunning, special, sacred sites that stir souls and help people disengage from day-to-day vexations and re-engage with what matters.
We put together this road trip through some of our favorite projects to inspire a little wanderlust and honor the resorts and recreation areas that make being in the great outdoors a profound joy.
This time, we're headed to the beautiful southwest and mountain states. Buckle up for some stunning places and projects.
UTAH
There are few places in the US that are as characterful as the cosmopolitan and historic Park City, UT with its array of offerings that range from great dining to hiking, biking, or just exploring in the summer, and of course, unbeatable winter skiing.
We designed the award-winning Marriott MountainSide resort. Perfect as a base for winter sports or in the summer, it's a full-service resort with both guest rooms and villas.
The architecture was conceived to look as if it belonged "no place else" and pays homage to the Silver King Mill that burned down in 1981. Without nostalgia, the architecture recalls Park City's mining heritage while pointing to the resort's future as a world-class vacation destination.
NEW MEXICO
Head to Albuquerque, you'll find one of our most stunning – and challenging – projects. It's located atop Sandia Peak, one of America's most stunning urban peaks (at the 10,378-foot crest of the Sandia Mountains) towering above Albuquerque. Summer means hiking, while winter boasts the area's best skiing.
Make sure you take the heart-stopping tram ride and at the top you'll find yourself at Ten-3 Restaurant, designed by Bull Stockwell Allen. Dine (or during the time of COVID-19, take out) at 10,000 feet above sea level and marvel at the building which designed to be as close to the edge of the cliff as possible for it to look as if it was erupting from the cliffside. The building itself was designed to maximize views and minimize glare. Constructing it was no mean feat: there are 6-8 climate zones between the Albuquerque floor and the top of the mountain: construction crews, material, and equipment were brought to the site via national forest service road or via tram, making basic site access difficult and time-consuming.
COLORADO
Mountaineer Square, Crested Butte, COLORADO
350 miles due north of Albuquerque is Crested Butte at 8800 feet in Colorado's Rocky Mountains. A former mining town, it's now one of Colorado's top hiking and skiing destinations with plenty of room to roam, surrounded as it is with 1.7 million acres of National Forest.
Mountaineer Square is the area's most luxurious lodge, offering a range of beautifully designed accommodation. Again drawing on the heritage of the area, we designed the lodge to subtly evoke the area's mining roots and wild-west history. It combines the community's need for a sense of place with the resort's need for first-class amenities and a warm bed base at this destination locale. The plan reinforces iconic views to the resort's signature mountain peak and promotes an updated take on the area's turn-of-the-last-century western architecture.
WYOMING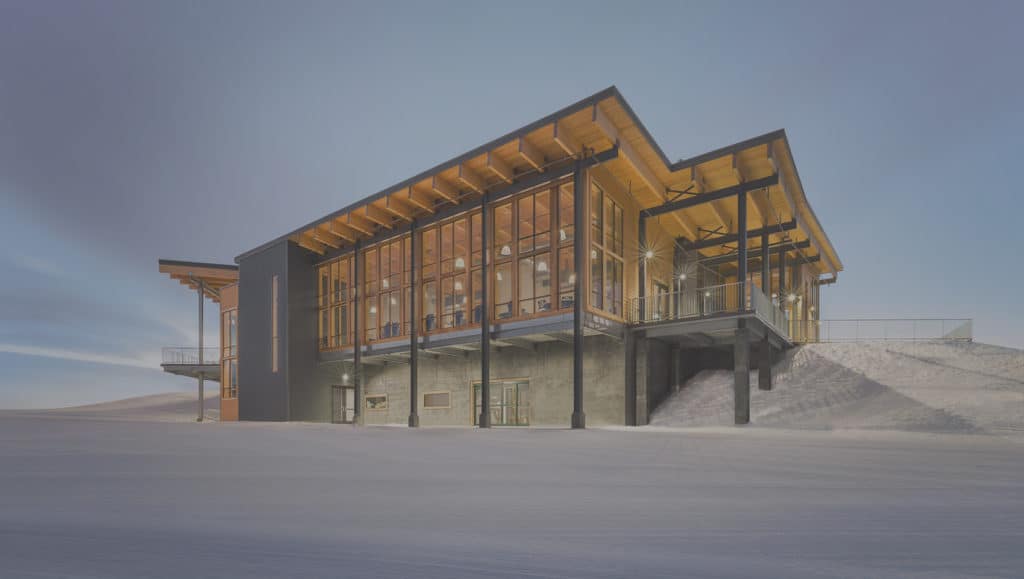 Head north to your next stop, Casper, and the beautiful Hogadon ski area. Located atop Casper Mountain, Hogadon Basin is located at 8,000 feet above sea level–3,000 feet higher than Casper itself. Owned by the town of Casper, it's a popular skiing and hiking area for locals and visitors alike.
Bull Stockwell Allen designed the lodge as both an on-mountain community center for the town as well as a day lodge that serves as the base for four-season recreation activity and is rented out for weddings and private events.  The lodge's design is both warm and modern, featuring concrete, wood, and glass.  Large expanses of continuous windows allow visitors to take in both the rugged mountain and city lights views.
Next up: The Midwest and East